Séminaire MaMux
Mathématiques, musique et relations avec d'autres disciplines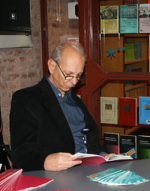 Sémianire-Rencontre: L'équipe Représentation Musicales Oscar Pablo Di Liscia, professeur d'informatique musicale et composition électroacoustique à l'Université Nationale de Quilmes (Argentine). Pablo Di Liscia est l'auteur de différents logiciels dédiés à la synthèse, la spatialisation et la composition musicale, et a développé des bibliothèques pour l'utilisation des ensemble de classes de hauteurs (pitch-class sets) et des matrices combinatoires dans les environnements PureData et SuperCollider. Pr. Di Liscia dirige également la collection Musica y Ciencia de la presse universitaire de l'Université de Quilmes.
11h00
IRCAM - Salle Shannon
1, place I. Stravinsky 75004 Paris
Entrée libre sur réservation


PCSLIB is a library of external objects for the program pd (Pure Data, Miller Puckette et al.) that allow the use of Pitch­Class Sets and Combinatorial Matrices on musical analysis and composition. pcslib was developed by Pablo Cetta and Pablo Di Liscia as a part of the Research Project Aplicaciones Musicales de Conjuntos y matrices combinatorias de grados cromáticos (Musical applications of sets and combinatorial matrices of pitch­classes), Universidad Nacional de Quilmes, 2009-­2012. The talk will address two specific subjects on the field of pitch­class set theory in order to show their theoretical foundations, computer applications and musical relevance:
­Pitch­ Class and Set­Class similarities.

Combinatorial Matrices design by means of chains of PCS.
More information about pcslib can be found at: http://puredata.info/Members/pdiliscia/pcslib/